VOLUNTEER
LAKEVILLE ART FESTIVAL
September 19 & 20, 2020 | 10:00am – 5:00pm Both Days
The Lakeville Art Festival is held the third weekend of September each year and has the following volunteer opportunities available for those who are interested in contributing to the community in a fun and gratifying way. The volunteer shift is for four hours and you will be rewarded with a complimentary art festival t-shirt. No experience necessary – we will train you!
Art Ambassador
Responsibilities include meeting and greeting guests, booth sitting for the artists, and providing breaks for volunteers in the Youth Art Tent and at the Community Art Project.
Youth Art Tent
Responsibilities include working with the young artists on the art projects. Project plans, materials and training will be provided.
Community Art Project
Responsibilities include providing guidance to the community members on the artistic process. Project plans, materials and training will be provided.
Volunteer applications being accepted beginning May 1, 2020. This year we are using SignUp.com to help organize our volunteers.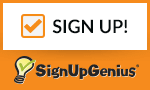 1) Click on Sign-up Button
2) It's Easy – you will NOT need to register an account or keep a password on SignUp.com
3) Choose the spot(s) you like.
Note: SignUp.com does not share your email address with anyone. If you prefer not to use your email address, please contact Contact Sherri Kouba at sherri@paulhaglund.com or 952-469-2425.